M.Gardó
The hanging shoes that have been lying on light or traffic lights for years are still an unresolved mystery, almost more typical of the X file section of this website.The truth is that Valencia is another of those cities in which this kind of fashion (which to stay) can be observed in almost all its neighborhoods.Areas like Ruzafa, Monteolivete, Benimaclet, El Cabanyal, Nazareth...They show this peculiar stamp, you just have to look up to realize.
This phenomenon comes from the United States, and was born in the 70s.It is called 'Shoefiti', a word game between 'shoe' (shoe) and graffiti.
Más noticias
What is the "great blackout" and how to survive without light a few weeks
M. Gardó
The retirees charged 2.331 euros per month of pension
at
Theories about 'Shoefiti'
What is its meaning?There are dozens of theories: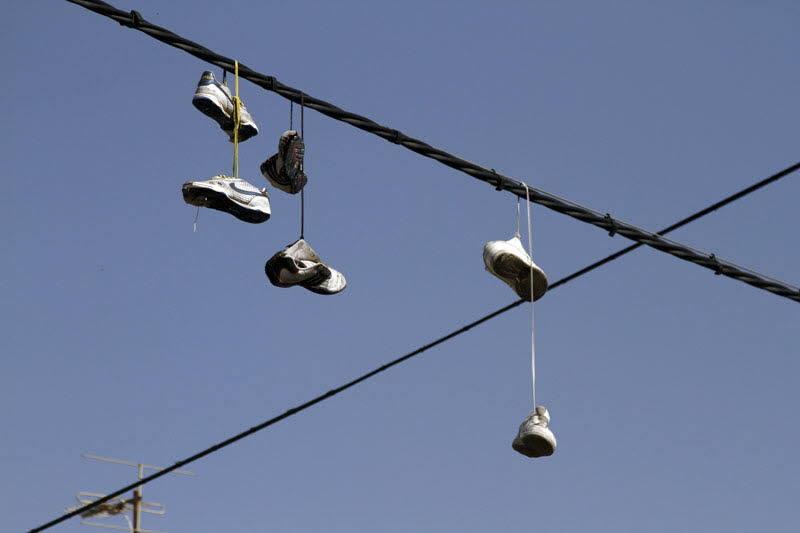 - Sale of drugs: one of the most widespread refers to the fact that drugs are sold.
- Street bands: it is also explained in different Internet forums that street bands usually hang the shoes in the neighborhoods that control to mark territory.
-Moda: the 'shoefiti' has been attributed to a kind of urban art without more claim than art.
- Okupas houses: Other theories suggest that there are houses of squatters or empty homes near that place.
- Celebrations: Weddings, Bachelor's Bachelor...
In the United States, the theory is very widespread that it is a sign that marks a drug point of sale.So much so that in 2003 the City Council of Los Angeles (USA) initiated a campaign to remove any trace of air shoes in the streets of that city of the West Coast.
The case of Spain
In Spain, on 1980, those young years for which the Spanish military service was mandatory, at the end of those 9 months of military training and returning to their homes "finally hung their boots", and so it was;They literally hung their boots in the electric laying.
Barrio de El Cabanyal - Canyamelar,Barrio de Nazaret,Barrio de Ruzafa,Barrio de BenimacletTendencias