1/14 Apparentia Red Guest Dress
When choosing the guest look to wear to a wedding, the decision is marked by the design, the fabric and the color. This last factor is the element capable of enhancing the silhouette, face and tan of the guest. Red is one of the most sought-after tones in the spring/summer season, perfect for weddings outdoors and in good weather, which is why the firms in the sector have launched proposals on the market in this range of tones, suitable for all tastes, with plain fabrics, prints, pants or midi length. Perfect options for the bride's friends and sisters who must be accompanied by simple or monochrome accessories.
puffed sleeves
With Bridalada (Carmen de la Cruz) as the protagonist of the images, the Grazia model by Apparentia has pretty plumeti puffed sleeves, a central row of buttons, a fitted silhouette and ankle length. The style prescriber also combines it with basic and elegant accessories: patent leather handbag and strappy sandals, both in black. Available for €285.
- The Illustrated Guide to Being the Perfect Guest in Nine Steps
2/14Long red guest dress by Pronovias
Frills
Within the new Pronovias collection for guests, baptized Wonderland, there is room for dresses as vibrant as this red design with ruffles. Layers in crepe, lace and chiffon add beautiful texture and depth to this elegant dress. With cascading ruffles and a loose bodice, this proposal is perfect for bridesmaids who don't want to go unnoticed and also for guests at afternoon weddings. Available for €690.
- There is a 'made in Spain' guest look for each type of wedding
3/14Vanderwilde Red Suit Jacket
Exotic
A journey between cultures is Vanderwilde's Il Mondo collection. Inspired by Beethoven's Ninth Symphony and its message of unity, each garment transports the viewer to a different place on the planet. Her red Indira suit, also available in blue, is a journey for the senses. With puffed sleeves, straight pants and a very special multicolored belt with tassels, it is a different and absolutely flattering look. Available for €290.
- Jumpsuits that stylize and are ideal for guests and sister of the bride
4/14 Red Miphai Guest Dress
Princess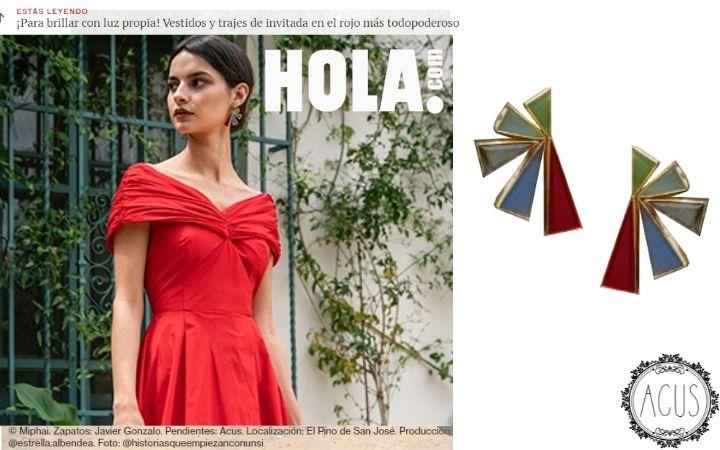 Those looking for a look with which to leave their surroundings speechless will find the Lola dress by Miphai, the ideal alternative. With a princess cut rarely seen in proposals for guests, she has an off-the-shoulder neckline, a strapless Bardot style, an asymmetric skirt with volume and a ruffle in the lower area. "The Lola dress, like all of Miphai's, is entirely designed and made one by one by seamstresses in Spain," explains the firm from Malaga. Available for €285.
- 15 perfect guest looks designed in Andalusia
5/14Dew and Corch Red Guest Set
gingham
Different and fun, this red look from Dew and Corch will delight those who do not conform to the conventional. A ruffled top and trousers with a maxi bell come together in this Vichy two-piece with a very flamenco air. On a daily basis, each garment can be reused separately along with other casual pieces and handmade-inspired earrings. Isis pants available for €110.
- Full color ideas for the sister of the bride and the perfect guest
6/14Carolina Herrera Red Maxi Dress
Two in one
As if it were a palatial look, this Carolina Herrera proposal will not leave anyone indifferent. Made in red silk fay, it has a strapless neckline, A-line silhouette and removable puffed sleeves with lacing. With a bit of tail, it is perfect for a big wedding and should be purchased at the firm's stores.
- 13 perfect guest looks designed in Madrid
7/14 Printed guest dress by Atrezatüre
Light
Its beautiful print that explores the entire color palette of reds and pinks, makes the Formentor dress by Atrezatüre a piece that will make those guests who are looking for something that can be used after the big day fall in love. It has ruffles on the skirt, buttoned collar and long sleeves, a detail that makes it perfect for a religious wedding. The firm, which has just been born, is the personal project of the influencer María Garrido and manufactures entirely in Spain in limited collections. Available for €189.
- Minimalist and trendy Pamelas that will transform your guest look
8/14Hinsomnia Red Fringed Guest Dress
fringes
If among the brides the fringes triumph in proposals for intimate, relaxed weddings or as a second dress for the links, among the guests it could not be less. The trend reaches models like the Azohia from Hinsomnia. In red, this proposal with a wide silhouette and asymmetrical neckline is made in Spain and has a spectacular movement, which means that it doesn't need much more to be a noteworthy look. Available for €229.
- Dresses with fringes and plumeti or when a bride becomes viral
9/14Red Dress by Redondo
special neckline
Paloma R is the name of this proposal devised by Redondo Brand, the firm of designer Jorge Redondo. With an off-the-shoulder neckline, puffed sleeves, a tight fit and a front slit, this all-powerful look in red is reminiscent of the great styles of the divas of old Hollywood and is a license that the sister of the bride could grant herself. Available for €219.
- Find the perfect guest look according to your personality
10/14 Red Koahari Guest Dress
timeless
Equal parts sensual and subtle, this Koahari midi dress is a sure hit. Under the name of Nani, the red satin design has an opening in the front area, French sleeves and pretty buttons. "Its crossed and buttoned shape of her laterally lets you see your legs when you walk and her pronounced V-neckline favors any woman," the firm points out on its website. Your biggest advantage? Does not wrinkle Available for €230.
- If you like these guest signatures, you have to see their wedding dresses
11/14Color Nude printed red guest set
bell cut
Asymmetric polka dots are the stars of this Color Nude look. The Sevillian firm has a collection for this spring/summer that thinks of practical outfits that can be taken from a wedding to work. The set made up of the Anja flared trousers and the Maciar vest is as cheerful as it is psychedelic. The pants are available for €150 and the vest for €125.
- Perfect guest looks designed in the Basque Country
12/14Boüret Long Red Dress
Sophisticated
I only have eyes for you is not the title of a song, but the name with which the Boüret firm has baptized the dress that is on these lines. With restrained ruffles at the neckline and a straight silhouette, it stands out not only for its intense red color, but also for some handmade bows that are distributed on its straps until achieving a very original back. Available for €490.
- Everything you can learn from the most stylish godmothers
13/14 Red lingerie dress by Javier Simorra
Draper
There are basic wardrobe pieces that time never passes by. Chosen as the great red carpet dress in the 90s, the slip dress is a simple and flattering success. Javier Simorra's red proposal turns this model into an even more daring, asymmetrical design, with a dropped neckline and gold straps, which can also be purchased in blue. Available for €186.
- The guest dresses that will save your looks if you are pregnant
14/14Veronica Pacheco Red Tuxedo Suit for Guests
Tuxedo
Why not raise a tuxedo for women? That is the question that Verónica Pacheco could ask herself and her model, Red Tuxedo, her answer. With a fitted jacket and capri-cut trousers, it is not only designed for afternoon weddings, it could also be worn together with very simple headdresses or large jewels in a morning wedding. Available for €290.
- White suits that you can wear from your wedding to work
HELLO! The total or partial reproduction of this report and its photographs is prohibited, even citing its origin.
More about:
More news about Guests
We recommend